Hey guys,
We have a massive new version of WME and it's packed with new and amazing features. We also have a huge secret MapRaid coming up, a new Wiki news section, Unholy's meme and roencaco from Honduras! Read on.
WME: Hey Good Looking (and Closures)
Version 1.9 of the map editor is upon us with lots of new stuff, but the biggest headline is undoubtedly closures. From now on editors (currently level 5 and above) can add closures to the app via WME in real-time! This will give the community a new level of flexibility and control, making the map more accurate and help users get to their destinations faster.
as simple as 1,2,3
The UI is similar to that of time based restrictions, making adding closures easy and fast. Go closures!
That's not all, of course. The roads layer has been redesigned, and not only does it look great, but it now presents more info - like those time based restrictions mentioned above (you have to manually activate the new layer). We also have a new designated toolbar button for place creation, and a new and friendlier error message for duplicate place saving. The zoom handle has a snazzy new design and lots of bugs were squashed.
Wiki News: the MapRaid Page
The newly formed Wiki Masters group has been hard at work over the past few weeks. So, to celebrate their efforts, we will be highlighting one recently published/upgraded page here in the bi-weekly. Be on the lookout for a new wiki, complete with a new look, coming *gasp* soon :)
This time, the highlighted page is all about MapRaids. Who was the first community to do a MapRaid? Where is there a gallery of MapRaid Memes? How does MapRaid Mentoring work? Find out answers the these questions and more on the shiny new
MapRaid Wiki Page
.
Unholy's Bi-weekly Meme:
About that new closures feature...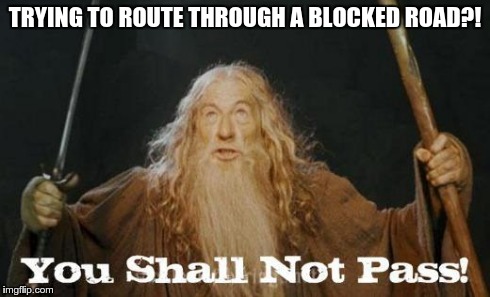 A Secret Mega MapRaid...
The mother of all MapRaids is approaching... We can't tell you where it's going to be (OK, it's going to be in north America), or when. We can tell you it's going to be awesome, and that hundreds of editors already signed up.
Wazer spotlight: roencaco, Honduran coordinator champ
Which car do you drive?
I drive a Truck 4x4
How long have you been a Wazer?
Almost 4 years.
How did you get hooked on Waze?
Due to the stress level in my job, I started to edit in Waze as an anti-stress activity. It's something than you like, does not demand a huge amount of time (just how much you want) and at the same time helps the community have a better map.
What's your favorite part about the community?
To meet people from everywhere. People from your country who live in another country, others than live in your country, but they came from different country. People that may have nothing in common with you except Waze, and all of us can be friends and work together.
..And the worst part.
Some of them are a little bit crazy :)
What's the funniest Waze story that happened to you?
I was in the Waze meetup for Latin America 2014 in Cancun. In the middle of the meeting I started to get messages from my Sister, asking me where I was. I explained the situation briefly. Then my sister told me than her stepson was in the same hotel in a Waze event.
I was shocked, How was that possible? What a coincidence!!!
But it was a mistake, I noticed that my niece was sending me messages at the same time, but using my sister's account, and she thought she was texting with her brother, but was texting with me. So for my niece I was her brother.
What's your best Waze tip for newcomers?
Be in contact with the rest of the community, even better, find a Wazer best friend, something like a mentor.
What do you listen to when driving your car (aside from the Waze app messages, of course)
Most of the time I listen to Country music. One of my favorite songs is I don't dance, by Lee Brice:
As always, suggestions and questions are welcome!