Hey guys,
You asked for it, you got it! A new section exposing Waze staffers! Filled with hidden secrets, hobbies, pastimes, and their lovely faces. To start if off - Irad, or MapSir.
Also announcing a new initiative, as part of our plan to help newbie editors...Webinars. And since meetup season is starting, we're visiting communities all over the world to discuss all things Waze.
Waze HQ Spotlight: MapSir!
A master mapper, a hard rocker (sort of) and the toughest man on the community team:
Oh, the rock band? Check out one of their hits:
Educating New Editors - the Webinar
We want to make sure joining the Waze community is easy for everyone. In order to do that, we've been working on improving the resources available to newcomers. Our aim is to create a set of tools that'll help new editors learn the basics of map editing and encourage them to connect with their local Waze community and sync on local rules.
Together with the Wiki editing community we're working to improve the Wiki (a project that's sure to help both newbies and veterans). And now we want to push forward with another initiative...drumroll...the Webinar!
Our first webinar is intended as a pre-mentorship step - a sort of orientation for new editors who have just discovered the WME and may not even be familiar with the Community. It'll include a general explanation of the WME, how Community at Waze is set up, and prepare users for the localized guidelines as determined by their local communities.
The webinar platform will allow us to invite and broadcast a live presentation to a large number of editors simultaneously. The idea is to hold two-three sessions monthly which span different time-zones. We'll post the schedule directly to our website (exact location TBD) and allow users to register for a time that suits them. Once we understand the popularity of these webinars, we can expand accordingly.
Of course, we'll keep you in the loop as this revs up.
Unholy's Bi-weekly Meme
We've been hard at work on fixing water and coastline related issues. Unholy is troubled by this: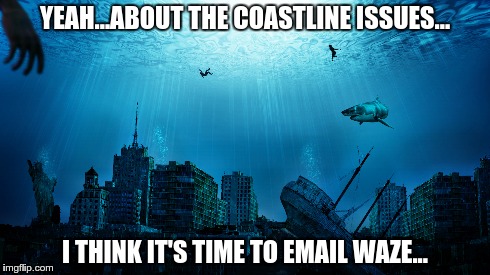 Meetup Season is Upon Us
It's on! Latvia and Estonia were the first. Then came Columbia and Costa Rica, and right around the corner are Brazil, France, and the US.
Waze staffers are globe trotting, meeting community members, sharing future plans, getting important feedback, drinking moderately, and having fun.
We'll see a lot of you soon! And if you want a meetup or Waze Cafe in your neck of the woods, let us know.
That's it for now!
Let us know what you think...
and
stay tuned!